Przerabiałam te ciastka tysiąc razy z różnymi grupami dzieci i za każdym razem wychodzą fantastycznie. Są proste, szybkie, efektowne i, last but not least, można je zaliczyć do tych bardziej zdrowych. Jest też inny plus: ich robienie jest najzwyczajniej w świecie odprężajace: trzeba udłubać misiom uszka, uformować kufy, przykleić oczy z M&Msów, dorobić czekoladowe nosy. Czyste flow. Prawie jak przy lepieniu pierogów.
* * *
I have prepared these cookies a thousand times with different groups of children and each time they come out fantastic. They are simple, fast, effective and, last but not least, can be classified as healthier ones. There is also another pro: making them is simply relaxing – you have to built the teddy bears' ears, form the face, stick the eyes with M&Ms, make some chocolate noses. Pure flow feeling. Almost like making dumplings.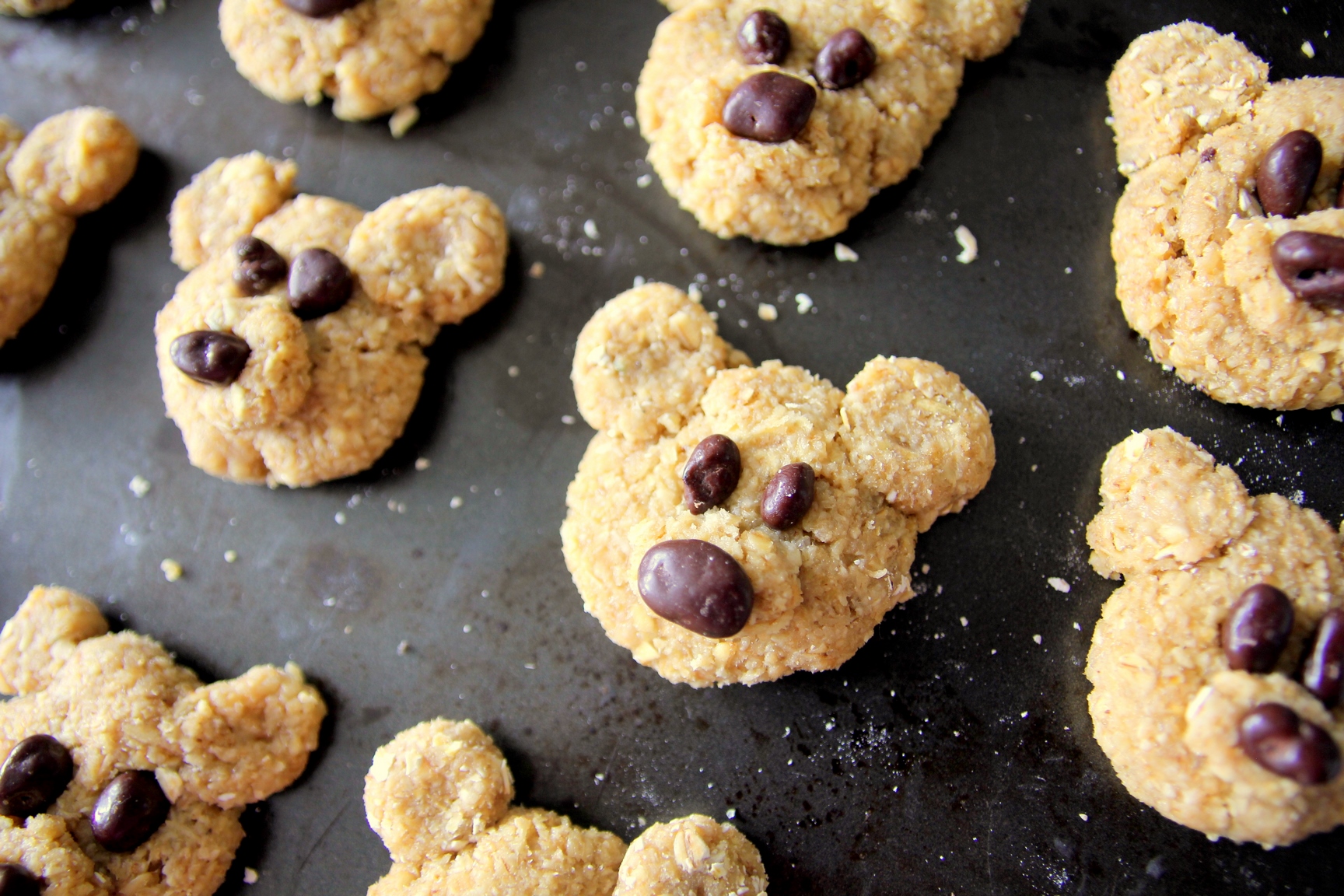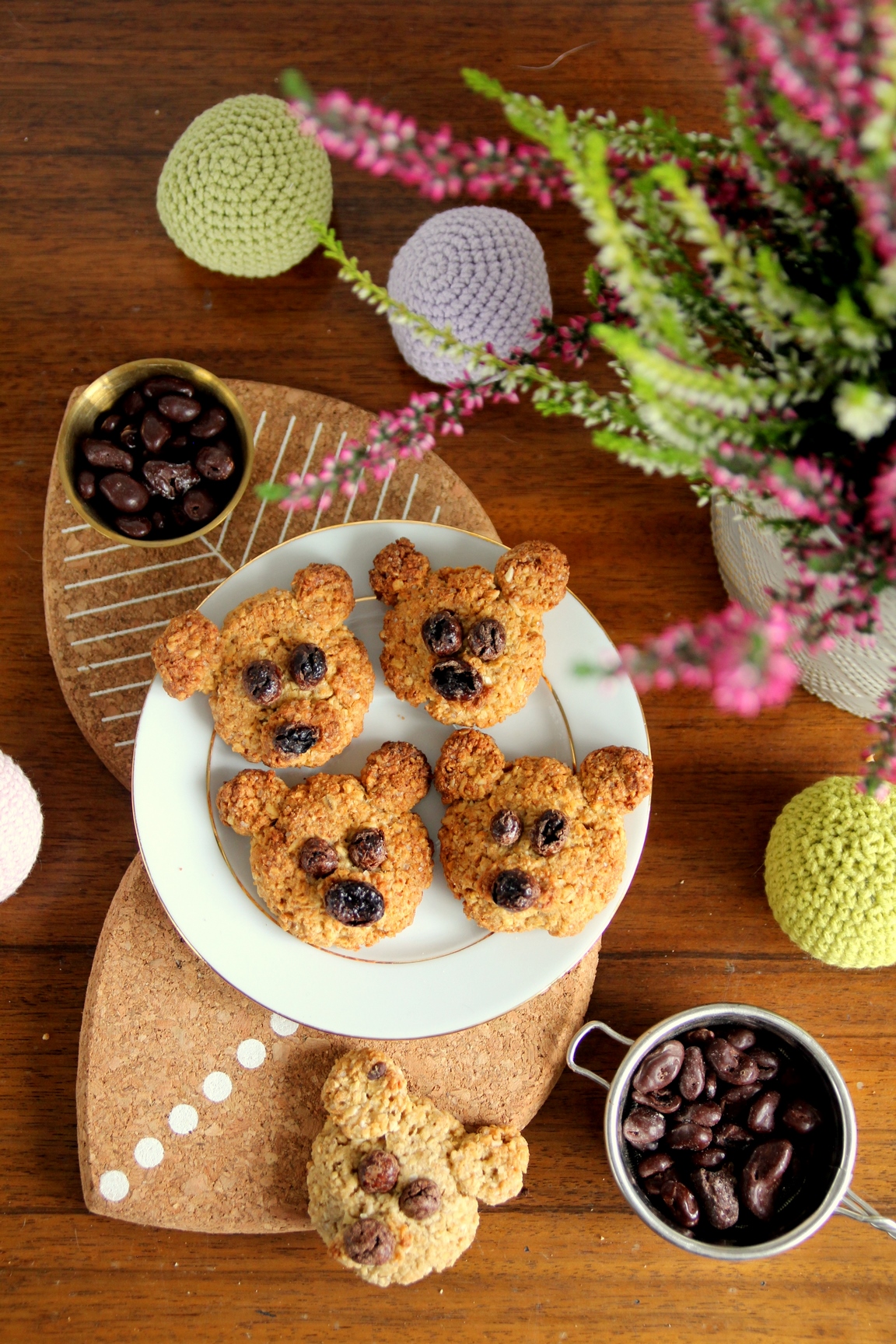 MISIOWE CIASTKA OWSIANE
[english version below]
SKŁADNIKI NA 20 MISIÓW
½ szklanki masła, zmiękczonego (1/2 szklanki = 1/2 kostki)
1 szklanka mąki
3/4 szklanki brązowego cukru
½ łyżeczki sody oczyszczonej
½ łyżeczki soli
1 jajko
1 łyżeczka mielonego cynamonu
½ łyżeczki ekstraktu waniliowego
1 ½ szklanki płatków owsianych błyskawicznych (czyli zmielonych)
M&M's
rodzynki w czekoladzie
W dużej misce ubij masło i brązowy cukier na puszystą masę. Dodaj jajko, wanilię i cynamon. W małej misce wymieszaj mąkę, sodę oczyszczoną i sól, dodaj do mieszanki masła, wmiksuj suche składniki w mokre. Dodaj płatki owsiane i wymieszaj, aż wszystko się połączy.
Rozgrzej piekarnik do 190 stopni C. Z ciasta uformuj jedną większą kulkę na głowę niedźwiedzia (wielkości orzecha włoskiego). Następnie uformuj trzy mniejsze kulki: dwie na uszy i jedną na pyszczek. Najmniejszą kulkę na pyszczek obtocz w cukrze.
Poukładaj największe kulki na blasze wyłożonej papierem do pieczenia i spłaszcz każdą z nich. W tym celu możesz użyć dolnej części szklanki lub dłoni. Umieść trzy mniejsze kulki na każdym większym, spłaszczonym kawałku, tworząc dwoje uszu i pysk. Do pyszczka użyj kawałków zanurzonych w cukrze. Ostrożnie spłaszcz mniejsze kulki.
Piecz od 10 do 15 minut lub do lekkiego zrumienienia.
Zaraz po upieczeniu, gdy ciasteczka są jeszcze gorące i miękkie, umieść M&M na nosie i dwie rodzynki w czekoladzie tuż nad kufą, by uformować oczy. Możesz też ułożyć rodzynki i M&Msy odwrotnie.
Smacznego!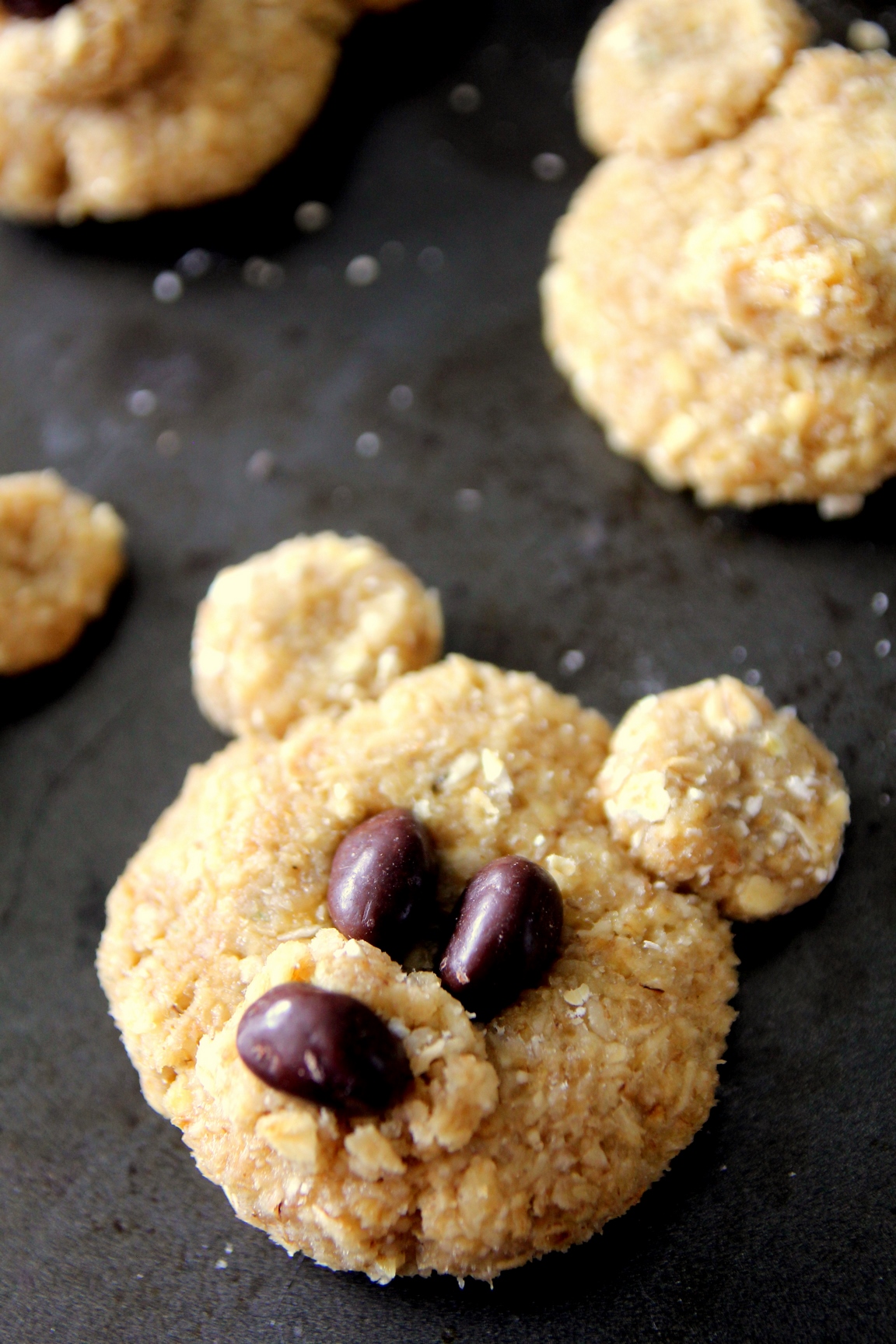 TEDDY BEARS OATMEAL COOKIES
INGREDIENTS FOR 20 BEARS
½ cup butter, softened (1/2 cup = 1/2 pack)
1 cup flour
½ teaspoon baking soda
3/4 cup brown sugar
½ teaspoon salt
1 egg
1 teaspoon ground cinnamon
½ teaspoon vanilla extract
1 ½ cup quick-cooking rolled oats (in Polish shops they are called "błyskawiczne")
plain M&M's
raisins in the chocolate
In a medium mixing bowl beat butter and brown sugar on medium speed until blended. Beat in egg; stir in vanilla. In a small bowl, stir together flour, baking soda, salt and cinnamon; add to butter mixture, blending until incorporated. Stir in oats until blended.
Preheat oven to 375 F degrees or 190 C degrees. From cookie dough shape one bigger ball for the bear head. Than shape three smaller balls: two for the ears and one for the snout. Roll a third of the small balls in sugar.
Flatten the cookie dough heads. You can use the bottom of a glass or your hand to do this. Place three of the smaller cookie dough balls on each larger, flattened piece, making two ears and a snout. Use the pieces dipped in sugar for the snout. Carefully flatten the smaller balls.
Bake 10 to 15 minutes or until lightly browned.
Right after baking, when the cookies are still hot an soft, place 1 plain M&M on the snout to form a nose and two raisins in the chocolate towards the center to form eyes.
Serve and enjoy!