Co jest najlepszego w bruschetcie? Baza, która jest jednocześnie obłędną grzanką czosnkową. Druga w kolejności świetna rzecz: możecie z powodzeniem przygotować bruschetty z wcześniej ususzonych kromek chleba, co ma znaczenie gdy zwykle kupujecie i wcinacie krojony chleb, a bułki tartej macie narobionej na 3 lata do przodu. Bruschetta jest dosyć szybką przekąską, bardzo wdzięczną i pokażcie mi proszę osobę, której nie smakuje domowa wersja z czosnkiem i dobrą oliwą.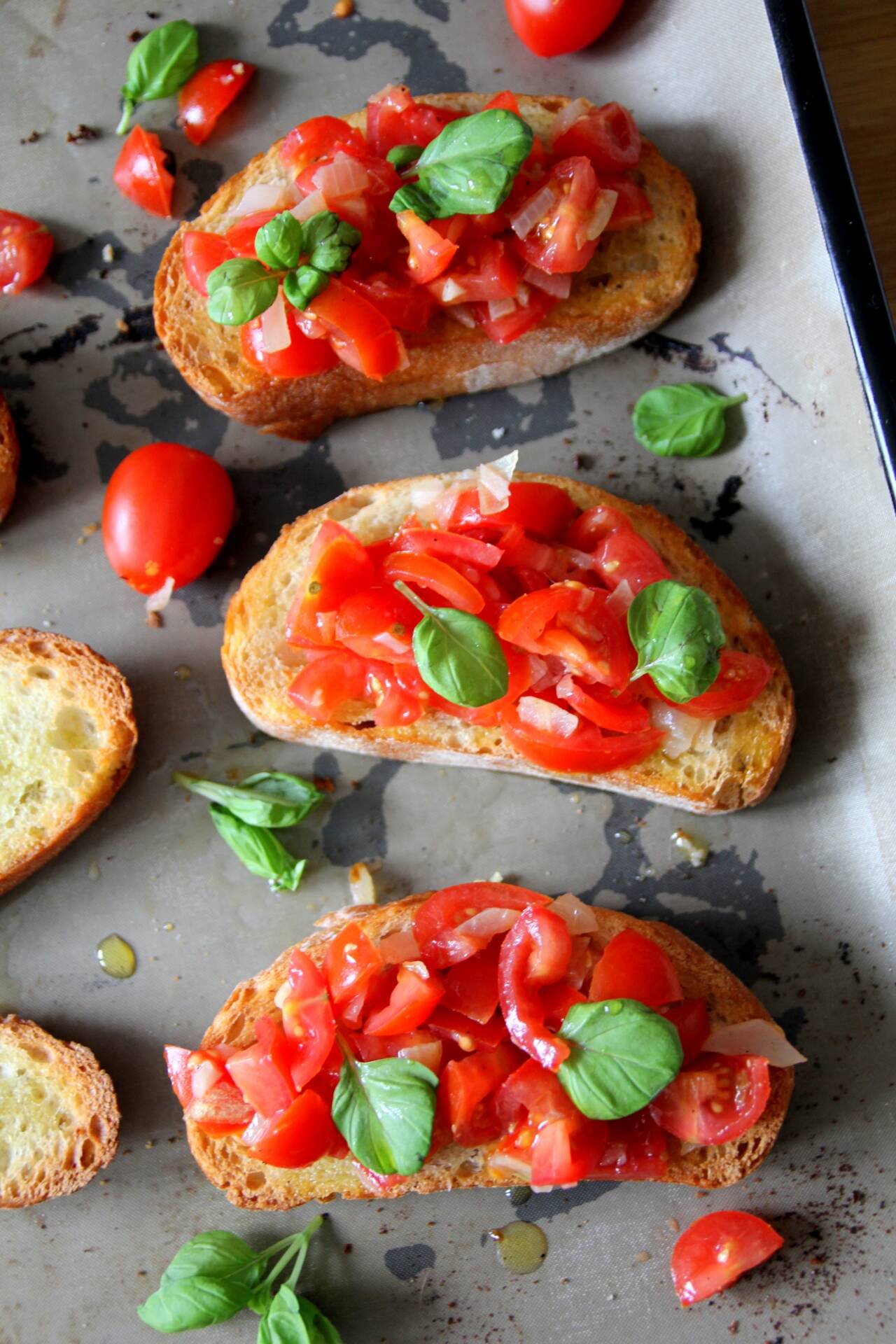 BRUSCHETTA
[ENGLISH VERSION BELOW]
kilka kromek czerstwego chleba lub lepiej: jakieś lekkie pieczywo typu ciabatta (tak naprawdę można użyć dowolnego pieczywa, które lubicie, także bezglutenowego, chyba tylko pumpernikiel się nie nadaje)
czosnek 1-2 ząbki
oliwa
2-3 pomidory
cebulka, najlepiej dymka – 1 sztuka
liście świeżej bazylii
sól, pieprz, cukier i sok z cytryny do smaku
opcjonalne dodatki wg uznania, np. ulubiony ser żółty, oliwki, pieczarki (wtedy bruschetta zmienia się w klasyczne grzanki – schemat przygotowania pozostaje ten sam)
Pieczywo pokroić na kromki. Tutaj są dwa sposoby: 1) sposób: kromki należy podpiec w piekarniku w 200 stopniach C przez ok. 5-10 minut (aż się lekko zrumienią) lub 2) sposób: najpierw układamy wszystko na kromkach, a dopiero na końcu podpiekamy.
sposób: kromki po podpieczeniu nacieramy przekrojonym ząbkiem czosnku i skrapiamy oliwą. Pomidory kroimy w drobną kostkę z dymką, dodajemy szczyptę soli, pieprzu i cukru (lub miodu, naprawdę szczyptę/kapkę) i skrapiamy odrobiną soku z cytryny. Czekamy, aż pomidory puszczą sok, można go odcedzić i użyć do czegoś innego. Układamy pomidory na podpieczonych kromkach, dekorujemy listkami bazylii.
sposób: czosnek przeciskamy przez praskę i mieszamy z oliwą. Nakładamy po trochę takiej mikstury na kromki (łyżką lub pędzelkiem), na to pokrojone w drobną kostkę pomidory z cebulką oraz dodajemy trochę sera. Nie doprawiamy. Zapiekamy ok. 10-15 minut w 200 stopniach C, aż do lekkiego zrumienienia kromek. Doprawiamy po wyciągnięciu z pieca, wtedy też układamy świeże listki bazylii.
Smacznego!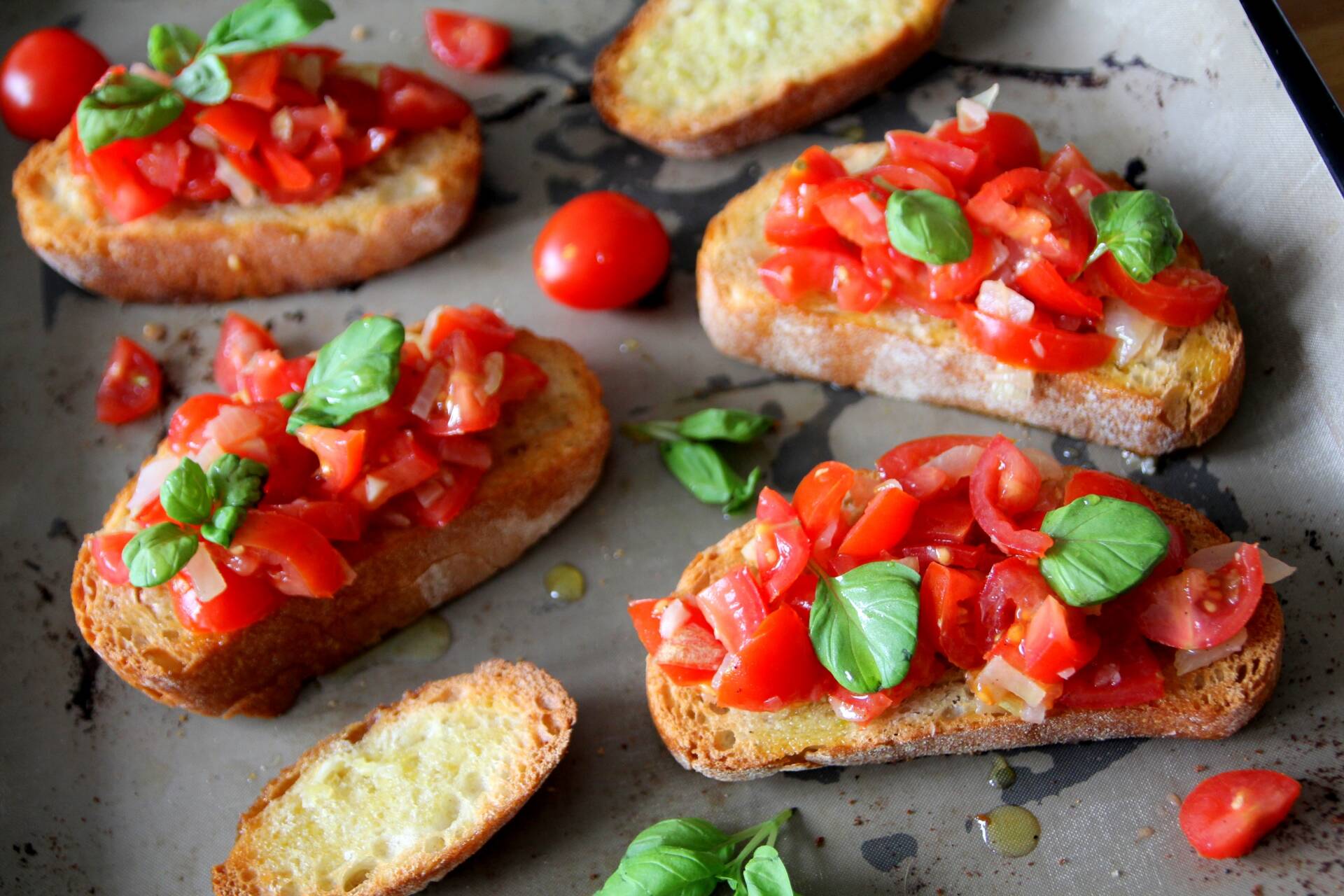 BRUSCHETTA
[ENG]
a few slices of favourite bread or better: some "light" ciabatta (you can actually use any bread you like, also gluten-free)
garlic 1-2 cloves
olive oil
2-3 tomatoes
onion, preferably spring onion – 1 piece
fresh basil leaves
salt, pepper, sugar and lemon juice to taste
optional extras, e.g. your favorite cheese, olives, mushrooms (then bruschetta turns into classic croutons – the preparation scheme remains the same)
Cut the bread into slices. Here are two ways: 1st) way: bake the slices in an oven at 200 degrees C for about 5-10 minutes (until they are slightly browned) or 2nd) way: first place everything on the slices and then bake them.
1st) method: after baking, rub the slices with a cut garlic clove and pour the olive oil over the bread. Dice the tomatoes into small cubes with spring onions, add a pinch of salt, pepper and sugar (or honey – really only a pinch / drip) and add just a little lemon juice.
Wait for the tomatoes to give off their juice, it can be strained and used for something else. Place the tomatoes on the toasted slices and decorate it with basil leaves.
2nd) method: squeeze the garlic through the press and mix with the olive oil. Put a little of this mixture on the slices (with a spoon or brush), then chopped tomatoes with onions into small cubes and add some cheese. We don't season it yet. Bake for about 10-15 minutes at 200 degrees C, until the slices are lightly browned. Season after put off from the oven, then also put fresh basil leaves.